Clean Room
We are engaged in high-standard plastic molding at the large-scale Class 10000 Clean Room which is one of the most prestigious facilities in Nagano Prefecture.
Although our Clean Room spec is categorized in Class 10000, the actual condition accomplished is under Class 10000 with our strict hygienic control. In such a clean environment, a total line of molding in the first place, assembly, product inspection and packing is conducted, while pursuing quality advancement.

Facing recent years' customer's demands on cleaner molded products, we meet their wide range of needs in medical, laboratory, food areas and so forth. Please feel free to contact us for consultation with regard to make cleaner molded articles or foreign substance control problems.
Manufactured products
●Laboratory containers and caps
●Caps for infusion solution
●Caps for food containers, etc.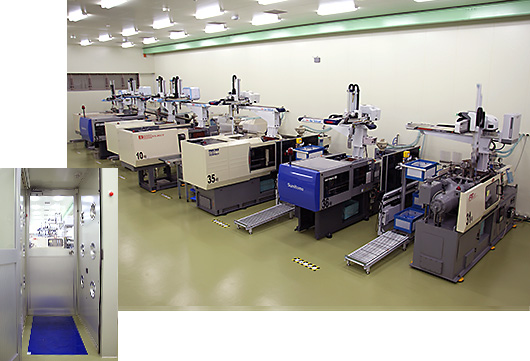 Second phase processing in Clean Room
A complete work process including packaging by the capper (cap screwing machine) and sealer is conducted in a clean room.
We do whatever it takes to make sure to deliver high quality, reliable products for our clients.